3 Things That Made Nipsey Hussle One Of The Realest.
Nip changed the game for so many people, I could accumulate a list of many great qualities that this rapper had but that list would be to long. Let me break it down to some of the most inspirational things anyone could have done too give back to their community. After all, they don't call him Nipsey "Hussle" for no reason. This man is the definition of a Hustler or "Hussler". Here is one of my biggest Role Models in a nutshell.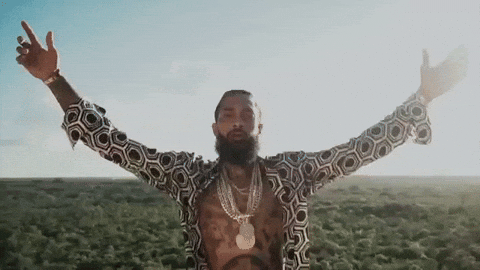 The Marathon:
As some of us may know Nipsey but not what he did. His brother Nip was the owner of a clothing line called "The Marathon" in which he turned into a clothing store. His brother "Samiel Asghedom" and Nip were out there young hustling selling some merchandise from a shop on the corner of Slauson/Crenshaw before his brother went to jail. Big bro got out of jail and set shop back up doing the same thing minus the shop, and he had to hustle his way back up putting everything he made back into it after losing everything prior to jail. These series of events led to the clothing line and the clothing store "The Marathon" and the slogan "TMC" which ended up being one Nipsey's Albums. Nip credited everything to big bro for putting in the work in.
Vector 90:
Vector 90 in my opinion was Nipsey's best foot forward as far as trying to make the community in which he grew up a better place for everyone. Nip and his partner Dave gross who also partnered with LA's section 8 housing committee to get these people a brighter future. Vector 90 provided anybody with teaching/training to be able to look at life from a broader spectrum then just what you see in front of you, whether it was entrepreneurship or whatever anybody had there mind set on. It was truly a place people could go to start finding themselves.
Follow Coin:
Nip had his fingers dipped in every market Including the cryptocurrency market which I'm sure we all come to know nowadays that the cryptocurrency world is a world we should all be involved in!! Nip partnered with Follow Coin, a company based in Amsterdam to stay ahead of the game. The coin was created in order to make trading in the crypto world easier.
Nipsey was for sure way ahead of his generation and certainly paved the way for not only other rappers but other people. He took so many lives and changed them from just using his money to give back in ways not many people know how. He was a man before his time, an old soul and very humble, loyal and smart. It was a huge loss the day this Legend got shot and passed but may he RIP looking down at all of us. RIP NIP.
https://www.bazingablogs.com/post/3-reasons-snoop-dogg-is-humble